Get started today with Unio Care.
I. Download the Unio Care app
The Unio Care app is a free mobile app that you can download on the App or Google Play store.


II. Create your account
To get started using Unio Care, you must first create an account.
💡 You must create your account with the email address that the care facility has on file for you.
From the home screen, tap on the "Sign up" button.
Enter your email address, and create a secure password. Then, tap the "Continue" button.


💡 Your password should be between 8 to 16 characters and must contain at least one lowercase character, an uppercase character, an alphanumeric character, and a unique character.

Enter your first name and last name. Please note that this information must match what your care facility has on record.
Verify your email address - check your email inbox for a verification email.
III. Connect to a resident/patient
To connect to a resident/patient's care profile, you will need an invite code and the Unio Authorization Form must be completed.

Requesting my invite code
Once you are logged into your Unio Care account, tap the "Request invite code" link under the invite code field.

Enter the requested information as accurately as possible and tap the "Submit" button.


Completing the Unio Authorization Form
Authorization is required to view another individual's health information in the Unio Care app. You can become authorized by having the Unio Authorization Form completed.
This is a required form and must be completed by the resident/patient or their legal representative in order to receive your invite code.
Your care facility will be able to help you with the completion of this form.
IV. Check your connection status
Check for updates on your request by tapping the "Check My Request Status" button in-app. You will also receive status updates via email. If you are not seeing status update emails from the Unio team, please check your spam or junk folders.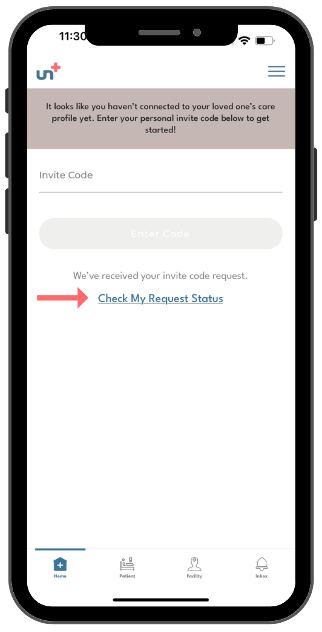 If you have questions about your request, please contact us.